01 Replacement of horehound, elderberry becomes the mainstream multi-channel Top1 raw material
In 2020, elderberry had become the best-selling herbal dietary supplement ingredient in mainstream multi-channel retail stores. Data from SPINS shows that in 2020, consumers spent US$275,544,691 on elderberry supplements purchased through this channel, an increase of 150.3% over 2019. From 2018 to 2020, the sales of elderberry in this channel more than doubled every year, and the continuous growth of sales made it rise from the 25th best-selling ingredient in 2015 to the Top1 in 2020. Elderberry has replaced horehound, which was the most popular herbal ingredient in mainstream multi-channel sales from 2013 to 2019. Many well-known brand throat lozenges contain this ingredient. The CRN Consumer Survey on Dietary Supplements in 2020 pointed out that immune health is the second most common reason for American consumers to take supplements in 2020. In the 18-34 age group, immune health is the primary cause. In late March 2020, shortly after the World Health Organization declared the COVID-19 outbreak a pandemic, Google searches for elderberries peaked. According to CRN's consumer survey, in addition to elderberries, echinacea, garlic and turmeric and other herbs had seen an increase in mainstream multi-channel sales in 2020. Among them, the sales of echinacea rose strongly, reaching 36.8%.
02 Quercetin
A plant pigment called flavonol is a type of flavonoid. Quercetin is found in apples, berries, onions, tea, grapes and other plants. Quercetin ranked second in sales growth in natural channels. In 2020, sales of this channel totaled US$6415,921, an increase of 74.1% over 2019. Quercetin ranks 19th in sales in 2020. In 2017, it appeared in the top 40 list of natural channels, ranking 26th. According to the CRN2020 annual survey, cardiovascular health, ranking behind overall health and immune health, is one of the most cited reasons why American dietary supplement users buy such products in 2020. In addition, for some American consumers, maintaining cardiovascular health become important again in 2020.
03 The sales of Ashwagandha Extract increased sharply, and the annual growth rate of mainstream multi-channel reached 185.2%
Ashwagandha had grown rapidly in mainstream multi-channel sales, with sales increasing by 185.2% in 2020 to US$31,742,304. In 2018, Ashwagandha appeared in the 40 best-selling herbs sold in mainstream retail channels, ranking 34th in sales. Since then, as many mainstream consumers have become more familiar with this herb, its annual sales have more than quadrupled. In 2020, it will rank 12th among the best-selling herbal medicines. Ashwagandha is a herb widely used in Ayurveda in India, and its rapid emergence is directly related to the rise of the concept of adaptogen. According to CRN's 2020 COVID-19 Consumer Survey, 43% of supplement users have changed their supplement form since the beginning of the epidemic, and 91% of them have increased their supplement intake. When asked why they increased their intake of supplements, nearly one in four said it was due to mental health, including stress and anxiety.
Shaanxi Ruiwo Phytochem Co., Ltd is a modern production technology-based enterprise specializing in the development, production and sales of natural botanical extracts and plant raw materials. Over the years, it has been committed to providing innovative products and services to customers in the dietary supplements, health food and cosmetics industries. Our Main products: Quercetin,Elderberry Extract,Ashwagandha Extract,Echinacea Extract,Turmeric Root Extract,Griffonia seed extract(5-HTP), Sodium Copper Chlorophyllin,Garcinia Cambogia Extract HCA, Berberine HCL and so on.welcome your inquires.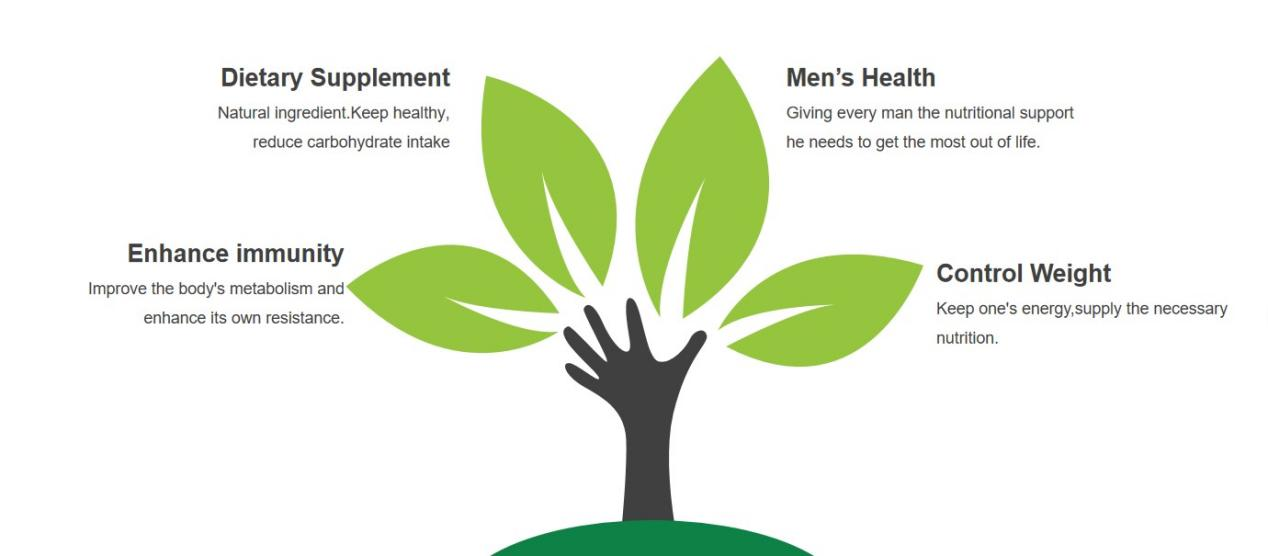 ---
Post time: Sep-23-2021